Yogatone gaat over de toon, de dialoog – om jou te helpen de connectie terug te vinden tussen lichaam en geest… Het gaat over de toon van je spieren en diepliggende weefsels… Het gaat over de toon in je geest tijdens de oefeningen…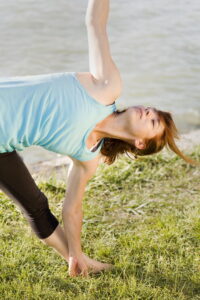 Yogatone biedt yogalessen in groep en individuele sessies – verschillende mogelijkheden voor verschillende individuele noden, maar met hetzelfde doel: connectie maken met je innerlijke zelf.
Ik heb mijn passie voor yoga ontdekt in Zuid-Afrika in 2008. Ik was enorm verrast over de invloed die yoga had op mij in vele manieren. Ik heb veel bijgeleerd over mijn lichaam, en dat terwijl ik al vele jaren aan competitieve sport deed. Ik was ook verrast over het effect op mijn geest en emoties – de verandering kwam meteen en heel natuurlijk. Het heeft mijn leven een andere richting gegeven, professioneel alsook privé, en het is de basis van mijn continue groei als mens.  
Opleiding: 
Hatha yoga teacher course bij Indie Yoga in Johannesburg (IYA* 40 hrs);  
 Hatha yoga teacher course bij Yogalife in Gent (IYA 200 hrs); 
Yoga therapy bij The Yoga Therapy Institute (IYTA** 700 hrs): Yoga therapy for anxiety and depression, for musculosceletal problems, for the digestive, reproductive, endocrine, immune, nervous, cardiovascular and respiratory system, Trauma-informed yoga therapy, Yoga therapy for Cancer,  Ayurvedic healing. 
*IYA: erkend door International Yoga Alliance. 
**IYTA: erkend door International Yoga Therapy Alliance.